For those following a paleo diet, there are lots of options for party fare. These turkey patties have a nice crunchiness via onion and jalapeño bits, which adds a bit of texture and flavor to the meat. Tip: When cooking the patties, take note. They are a little fragile, so make sure oil covers the bottom of the pan to ensure they don't stick. Patties should be white halfway up the side before flipping. Run a spatula or fork under the patties while cooking for extra insurance.
As for the pesto, prepare the cucumbers ahead of time, but don't make the pesto till ready to serve. I made mine the night before and it did not keep its pretty green color, though it still tasted mighty fine.
These turkey patties are just one of the recipes from my paleo party theme. Click the link to see more veg and meat dishes. 
MAKES 24 BITES
MAKE THE TURKEY PATTIES
1 LB ground turkey breast
1 egg
1/2 tsp Worcestershire sauce
1/2 small red onion, minced
1/2 jalapeño, minced
1 clove garlic, minced
1 1/2 TB parsley, minced
1/4 tsp salt
1/8 tsp pepper
2 TB nutritional yeast
—
almond oil
—
With a fork combine all ingredients, except oil, in a large bowl. With wet hands (the mix may be kind of sticky) take a small amount that fits in the palm of your hand, make a ball, then flatten. Size should be roughly 2 inches x 1/2-inch thick (two bites). Get a big skillet hot, add 1/8-inch oil to the pan, then add patties. Cook for 2 1/2 min, till nice and brown, then flip and brown other side. Let drain on a paper towel.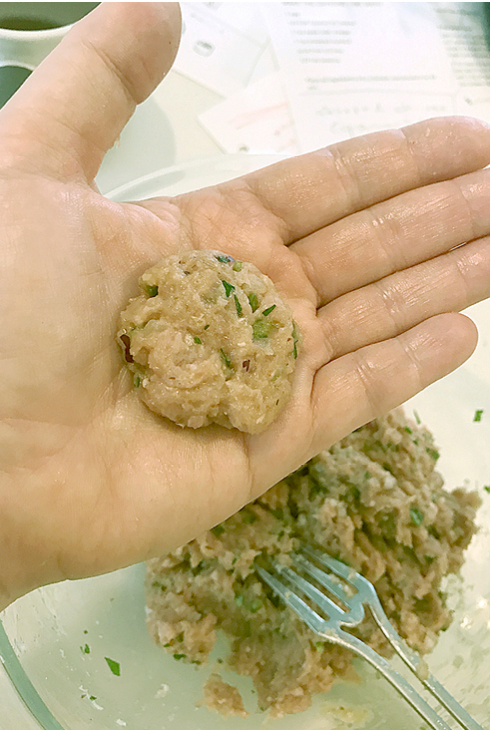 GET OUT THE FOOD PROCESSOR… PREPARE THE CUCUMBER
2 cucumbers, peeled
1 tsp salt
—
Cut cucumbers in half lengthwise and remove seeds with a spoon. Cut these in half and grate in the food processor. Move to a platter, sprinkle with salt and let it sit for about one hour. Transfer to a strainer and squeeze out as much liquid as possible, then place in a bowl. (If doing this part ahead of time, place cucumbers in an airtight container in the fridge till ready to use)
MAKE THE PESTO
3 cloves garlic, chopped
1 1/2 CUPS basil leaves
3/4 CUP mint leaves
1/2 CUP pine nuts, toasted on a hot skillet
1 tsp fresh thyme leaves
1/2 CUP EV olive oil
—
cucumbers
—
Pulse together in a food processor. Add to the cucumbers and mix thoroughly.
Want more paleo party recipes? See them in our theme 21 Purely Paleo