At an event at the French Cheese Board in Soho, we attended a cheese and cocktail pairing, making for an extremely fun-filled afternoon. Learn the basics of pairing from our four examples.
This just goes to prove that it's not only wine can that can accompany your cheese selections (see also our post on beer/cheese pairings). Tommy Flynn, mixologist from Drexler's in the East Village, who is also developing the beverage program at the new Williamsburg Hotel, created the snazzy cocktails. Check out these four variations, all with very different flavor profiles, and one is sure to appeal.
The first couplet takes mimolette, a nutty hard cheese and marries it to a refreshing citrus cocktail. Number two fuses a special bourbon with tomme brulee, a manchego-style cheese. For those who love soft, oozing cheese, pairing number three introduces a smoky whisky with époisses. Blue cheese, bleu d'Auvergne,  finishes the scenario, with a partner bearing tropical attributes.
PAIRING #1: STRENGTH + STRENGTH
Mimolette A hard cheese that's has a sharp, nutty taste with sweet hints of butterscotch. The flashy orange color comes from annatto seeds, which also lends a peppery/nutmeg essence. Mimolette comes aged six months or twelve months, the latter factored into this lovely pairing. A little history: This cheese started to be produced in France at the request of Louis XIV who wanted the French to produce something similar to Edam, which was very popular at the time. Not only will this baby look super on your cheese board, you can enhance the tasting experience with a gin cocktail. Lazy Susan's ingredients are a wonderful play of bitter and citrus. Bluecoat gin (a HOBNOB fave) is a less juniper tasting gin, and the Giffard Pampelmousse, a grapefruit liqueur, both lend a hand in the citrus department, while the bitters and Suze contribute to the bitter aspects. Tommy Flynn, "This pairing blend strength with strength. Mimolette is sharp and the cocktail is pretty acidic. The  citric notes of the cocktail blended well with the cheese and had us wanting more."
Lazy Suzan
1.5 oz Bluecoat Gin
.75 oz Giffard Pampelmousse
.25 oz Suze
.75 oz lemon juice
.25 oz simple syrup
3 dashes Boston Bittahs
—
garnish: orange slice
—
Shake with ice and pour into a highball glass, add a orange slice to garnish.
PAIRING #2: OPPOSITES ATTRACT
Tomme Brulee A hard cheese made from unpasteurized sheep's milk, something like a manchego, but more creamy as it melts on your tongue. You can recognize it at the cheese counter by its scorched exterior, which is where the "brulee" comes in. The flavor is milky, salty, sweet with grassy notes. The matching cocktail features a medley of orange and lemon with an herbal twist. Tommy Flynn, "I wanted to brighten up the brûlée cheese by pairing it with a whiskey sour/mint julep variation. We pinned two very different flavor profiles against each other to help boost the individual flavors of each."Heavenly!
Two by Four
2 oz Four Roses Small Batch Bourbon
.75 oz Pierre Ferrand Dry Curacao
.5 oz lemon juice
.5 oz lemon verbena/mint syrup
—
garnish: bouquet of mint
—
Shake with ice, strain into a old-fashioned glass. Garnish with mint.
PAIRING #3: COMFORT
Èpoisses Oozy and gooey, this orange-rinded cheese from Burgundy sounds the decadence alarm. It's the type of cheese where the dipping of bread becomes irresistible. You may find the aroma slightly misleading, as the taste is milder than advertised, subtle and slightly salty. The rind gets its color from brine and a local brandy, which also adds to its suppleness. Look for it in its signature wooden case. The cocktail that brings out the best of this cheese starts with a smoky whisky, adds a sensual vermouth plus the complexity and sweetness of Benedictine to counteract the cheeses' mildness. Try this one, you will love it. Tommy Flynn, "This cocktail reminded us of sitting at home in a wooden basement having a fire in the dead of winter. The warming sensation of the peaty Scotch was perfect with the strength of the cheese."
Tip of the Ardberg
2 oz Ardberg 10 Year Old Whisky
.5 oz Dolin Rouge Vermouth
.25 oz Benedictine
2 dashes Peychauds bitters
1 dash absinthe for depth
—
lemon twist
—
Stir with ice, transfer to a Nick & Nora glass. Twist lemon to expel oils, then discard.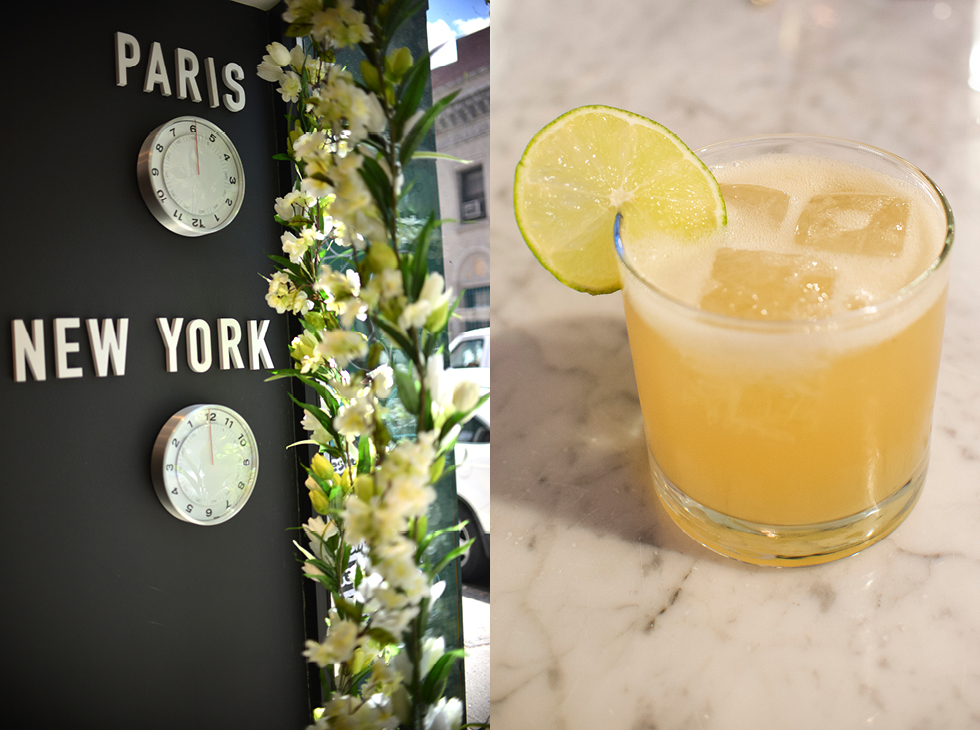 PAIRING #4: BITE VS TROPICAL
Bleu d'Auvergne As in any tasting scenario, leave the strongest for last. This is a blue cheese with a lot of veining, but its bite is less than you would expect. Grassy and floral notes mix with the usual blue cheese flavor profile, with a lush creaminess. A medley of tropical flavors went into the cocktail, that makes for an amazing pairing. The rum offers notes of citrus and vanilla, and the Giffard Banane de Brésil provides even more fruity deliciousness. Tommy Flynn, "Since blue cheese is incredibly strong on its own we needed a flavor that would allow it to shine while also making us want more. The pineapple jalapeño syrup proved to be the ultimate enhancer and the softness of the rum went great with blue cheese."
High Tide
MAKE THE PINEAPPLE JALAPENO SYRUP:
1/2 pineapple, plus a few more chunks
1 CUP sugar
1 CUP water
1.5 jalapenos
—
Chop 1/2 pineapple and puree in a blender. Add all ingredients to a saucepan. Bring to a boil, then let simmer for 8-10 minutes. Remove any chunks left. Transfer to 14 oz squeeze bottle.   
MAKE THE COCKTAIL:
1.75 oz Atlantico Platino Rum
1 oz Jalapeno Pineapple syrup
.5 oz Giffard Banane de Brésil
.75 oz lime juice
—
garnish: mint bouquet, slice of orange
—
Shake with ice, transfer to an old fashioned glass with crushed ice preferably. Garnish with mint and orange.
A BIT OF FRANCE IN SOHO
Special thanks to Charles Duque, Director of the French Dairy Board for NA for his fantastic cheese histories. If you love French cheeses make sure to head over to purchase some or take one of their class. They also offer a litany of books on cheese, for those doing research.
SEE MORE Cheese Board inspiration on our Pinterest page, in the board: Cheese & Charcuterie Boards for Parties.