With only four days to explore one of my favorite cities, the options had to be cross-referenced and highly recommended. We scored big time on some wonderful foodie meals in our London restaurant hopping. Welcome to the culinary tour.
The only dining surprise by happenstance was at The Modern Pantry. We went every day here, as it was just behind the Zetter hotel in Clerkenwell, and started out our day on a healthful note. Nighttime took us to Shoreditch and Soho neIghborhoods, for the most part.
The Zetter Hotel
Loved this stylish boutique hotel situated in Clerkenwell, which happened to be at the center of all the spots we needed to be on this trip. From the hotel, it was a short walk to the Thames via Blackfriars Bridge, and another half hour or so of walking to Trafalgar Square.
Rooms were comfy, but not overdone, with seating and enough storage for a short trip. A luxe coffee machine on every floor was a welcome offering for a complementary frothy latte or cup of tea, which I did indulge in on a daily basis.
We had lunch in the Club Zetter Wine Room & Kitchen upon arrival, which constituted a comfort-y truffle risotto [Jerusalem Artichoke Risotto, Toasted Hazelnut and Truffles] contrasted by a healthy asparagus—which seemed to be on every menu in town [English Asparagus, Crispy Hens Egg, Cured Ham].
Burgers were cooked to well-done, so not in line with my fine-tuned burger sensibilities, though still a welcome meal.  [Zetter Burger, Cave-Aged Cheddar, Triple Cooked Chips, Onion Rings and Pickle].
A Zetter Bonus: One night we came back late, and the restaurant was closed—all we had to do was ask if they were open, and they opened JUST FOR US late at night when everything else was closed. Soon a few other stragglers showed up, Americans, of course. This is what happens when you go abroad for a few days. We never really adjusted to the time change, so at 11pm there, it was only 5pm in New York. Needless to say, we did stay out quite late every night. As long as they would have us! THE ZETTER
The Modern Pantry
Right behind The Zetter was a sanctuary for health, to balance indulgences of the night before. We had brunch here twice on the weekend and lunch on our last day.
The menu was truly a focus in healthy fare. Every day, Bob ordered the meusli mix, with ultra fresh nuts, berries, and oats, which was surprisingly doused in fresh apple juice instead of milk, making for a super refreshing start to the day [THE MEUSLI MIX: Toasted Buckwheat, Rolled Oat, Puffed Wild Rice, Sour Cherry & Pecan with Apple Juice & Blackberries]. I instead dabbled in bready delights, which arrived as a trio of toasts with a trio of lovely jams, including marmalade, which I have never developed a taste for, as much as I have tried.  The jams: Berry + Licorice, Gooseberry + Vanilla, Grapefruit + Pink Peppercorn Marmalade].
Salads here were generous and feautured a wonderful mix of sprouts, unusual lettuces, olives, fresh cheese and flatbreads [in the photo: Mozzarella, Heritage Tomato, Lemon Roast Fennel & Lavosh Salad, Olives, in Shallot + Tarragon Dressing]. Order the smaller portion for one—the large portion is a lot to handle. THE MODERN PANTRY
Brawn
Our first dinner came late in the day at Brawn in Shoreditch. This place is reminiscent of something out of Brooklyn or Seattle, so had a certain familiarity, though the dishes were special to the place.
Nice bread and olives started our meal, which continued with gourgères tres light and tasty. I got everyone at the table to try and like the smoked eel which was served salad style [Smoked Eel, Apple, Fennel & Creme Fraiche].
We moved onto our next asparagus dish of the trip, in this case wrapped in lardo and sprinkled with cheese [Asparagus, Lardo di Colonnata, Walnuts]. A sensational crudo ended the app part of the dinner [Raw Scallop, Celery, Capers & Colatura di Alici].
For entrees, David and I had a hankering for the pork, which arrived as a generous portion [Pork Chop, Green Beans, Anchovy & New Season Garlic]. Hit the spot.
A pasta [Brown Crab & Bottarga Taglionlini] was enjoyed by Judy. Bob, as usual, ordered the fish, because he can never resist a dish that has peas in it [Turbot, White Asparagus, Mousserons & Peas]. The darlin' Clementine, our server seen in the photo, did her best to make our night fun, and we did close down the place. Perfect dinner to start the trip. BRAWN
Bar Termini
After walking all day long, we were ready for replenishment. So early Sunday eve we stopped in Soho, first at highly-recommended Barafina, whose counter was full, and had a line wrapped around it of people waiting to dine. A couple on the waiting line tried to convince us to stay, saying it was worth the hour wait, but that did not appeal to me at all. [I, for one, don't believe in waiting anywhere, when you could be so many other places not waiting.]
Plan B, right down the street was Ducksoup, another highly coveted spot, but was closed, so we continued on to the next property on the my treasured list: Bar Termini. Soooo happy we made it here! The place was an adorable little spot, packed with revelers chillin'. It felt like home here, and such a well-deserved rest. Due to the fact that it was Sunday, the only food available was charcuterie, which turned out to be extraordinary, and came with a stack of very thin, greasy, flaky bread as its perfect partner.
We had a blast here hanging out at the bar with the very friendly staff, who were shaking up some nice cocktails as well (see details in the London Drink post). Truly fun spot. Home away from home—Italian style. BAR TERMINI
Berners Tavern
We ended up in Fitzrovia for dinner after a foray to Untitled, a spot we kept trying to go to, but got there too late 2 nights in a row (we did make it eventually, also in our drinks review). The space was opulent with an explosion of photos covering the walls similar to the Clocktower in NYC, who both happen to be situated in an Edition Hotel.
We switched to drinking wine, a nice Viongier, and started with a healthy salad. Again, Bob got the fish [Roasted Cornish Cod, Crispy Squid, Basil, Fregola, in a Tomato Consomme poured at the table], which included a couple of baby baby calamari on the top, but I had the winning dish:
I had the VERY BEST Chicken Paillard salad ever. I could not stop raving about it and the chef generously came to our table to share the recipe. This number would make a lovely offering for a summer dinner party: the combination of sauces, super-thin wafer of chicken, and fresh lettuces make it really extra special. According to the chef, this is a crowd fave, so they cannot take it off the menu. BERNERS TAVERN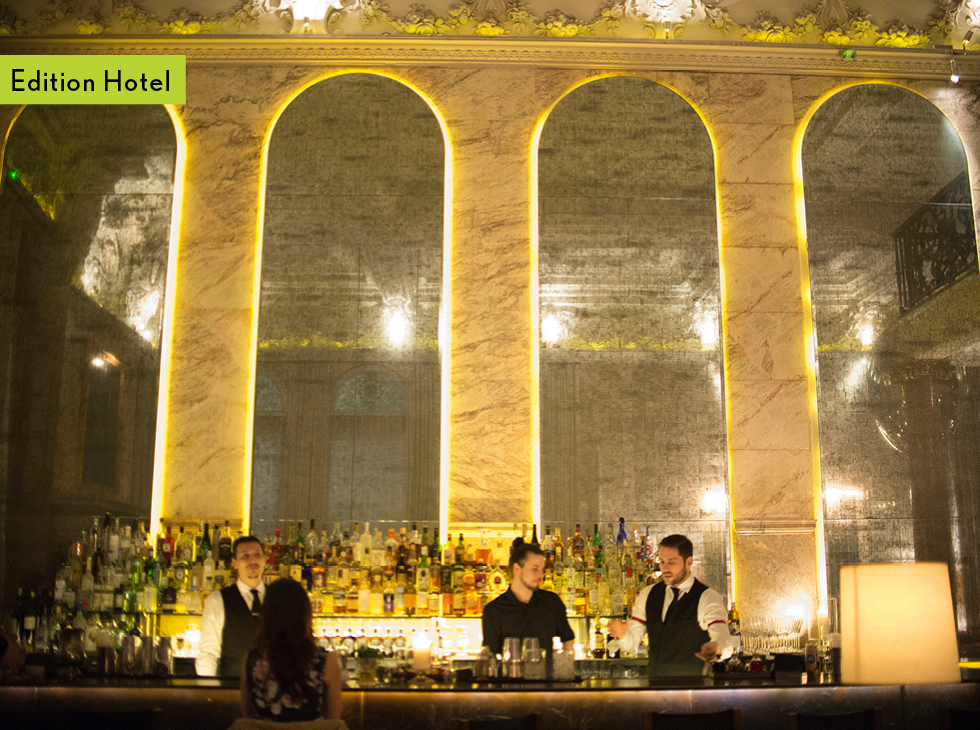 Palomar
Our finale dinner was a tough choice to make, especially considering all the interesting recommendations we were getting. Ugh. How to decide? Upon further discussions with our Brit friends we came to a glorious conclusion. Palomar. Judy's sister had a connection, so we were able to snag a table for 5—last minute. It turned out to be an excellent choice, where we shared many little dishes. They just kept a comin'.
Everything we ordered was fresh and flavorful, with a leaning towards veggie things. Do get the Pot Baked Bread (we even got a second order of this hot, pull-apart bread perfect for dipping).
We tried so many extremely well-done plates, which is the plus of being with a group, that it could all be a blur IF I did not have my camera to record the feast.  I can totally see why this place is such a hotspot. These are the dishes that graced the table:
Salmon Tabulenia: bulgar, Turkish za'atar, yoghurt & herbs;
Kubaneh: Yemei Pot Baked Bread: with tahini & velvet tomatoes;
Yiddish Style Hand Chopped Chicken Liver Pate: horseradish 'Chrain', toasted challah & pickles;
Fattoush Salad: tomato, cucumber, za'atar, sumac, challah croutons, Brazil nuts & labneh;
Gnocchi Hamousta: fennel & leek cream, almonds & ricotta salata;
Polenta Jerusalem Style: with asparagus, mushroom ragout, parmesan & truffle oil;
Prawn Ceviche del Cristiano: prawns in tiger milk, mango, mezcal & chimichurri;
Beetroot Carpaccio: burnt goat's cheese, hazelnut brittle, lentil tuile & pomegranate molasses vinaigrette;
Ironed Chicken Thighs: za'atar & sumac rub, ambah yoghurt, Arak & orange braised fennel;
Siske Pork Belly: with Ras el Hanout, dried apricot, glazed carrot & celeriac cream.
For Judy's extended birthday celebration, we did opt for 2 desserts. The fruit-centric Malabi Rose with scented milk pudding, raspberry coulis, coconut meringue pistachio crunch, fresh raspberries & kataifi and the decadent Reverse Chocolate Fondue: milk crumble, banana financier, vanilla marshmallow and peanut tuile. PALOMAR